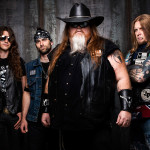 With a perfect blend of hard driving metal with a southern twang, Texas Hippie Coalition never fails to disappoint. The innovators of the self-proclaimed "red dirt metal" genre, THC has the hard hitting sound of Pantera, mixed with the southern twang of Lynyrd Skynrd with just a pinch of Johnny Cash attitude. Being no stranger to THC shows myself it was a treat to see them play on their home turf in the lone star state. 90 minutes of pure energy from the time the lights went up to the moment the gear started rolling off the stage.
Following 3 great local openers THC took the stage with a track off of their 2012 album Peacemaker, Hands Up. Guitarist Cord Pool, bassist John "The Pornstar" Exall, and drummer Timmy "The Hitman" Braun tore up the stage as front man Big Dad Ritch walked on from the side stage, commanding the attention of every person in attendance. Grabbing his trademark double-barrelled shotgun microphone stand Ritch broke into the intro of the song, which also plays out as an introduction for the band initself.
"I'm the king of Texas! For those that don't know me! And we're the band of outlaws! Call us THC!"
What followed was an hour and a half of pure, unadulterated, raw energy. If you weren't a fan walking into this show, you sure as hell left one. Between songs Ritch offered up his banter with the crowd, ranging from stories of songs origins, to family stories, to ball-busting his fellow band members. The talent behind this group cannot be understated.
Bass player and founding member John "The Pornstar" Exall is a pure ball of energy, constantly playing to the crowd, hyping them up with his stage antics.
Drummer Timmy "The Hitman" Braun isn't ashamed to show off his considerable chops beating on the skins, never missing a beat.
Guitarist and newest member Cord Pool, the young buck of the group, is a fresh faced, always smiling, guitar virtuoso. Playing his typical guitar solo leaves the crowd, and more impressively, his fellow band mates in awe.
The foursome ended the night with there biggest hit to date, off their debut album "Pride of Texas" the song "Pissed off and mad about it". A powerful song that sucked the entire crowd in. As the song ended Ritch demanded that the collective crowd tell there mama's that he loved them, and child support was in the mail, before grabbing his brothers in metal and yelling into the microphone.
"This is something we like to do, that we stole from Motley Fucking Crue!"
 Bowing in unison to the roar of the crowd before leaving the stage.
josh@outsidethedial.com
The band is currently on their headlining "Road to 420 Tour", if you have the opportunity to catch these guys live, do not miss out.