All Content Courtesy of Jerry Graham Publicity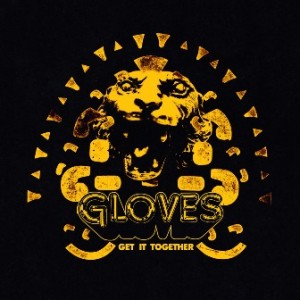 The mysterious music collective from Austin, TX known as GLOVES have announced an album release for 3/3/15. Entitled Get It Together the album boasts eleven tracks of future-funk grooves, muscular riffs and a vocalist who hovers somewhere between Ian Svenonius and James Brown at their most frantic.
This sound is fully exemplified in the bands recently released video for "Hot Checks".
Always pictured in black turtle-necks and gold chains the quartet is composed of Salem Abukhalil, Ben Fisseler, Colton R. May and Ajit D'Brass. Unified by image as well as vision, GLOVES self-describe their sound as "Anti-Garage." A released statement from the group defines this music classification as "the use of Rock & Roll instrumentation to produce music that is not based on popular American/British Classic Rock sensibilities."
Originally materializing in 2013 GLOVES equally intimidated and enthralled audiences around Texas. Along the way they have shared stages with Yonotan Gat (of the Monotonix), Eureka the Butcher (Marcel Rodriguez-Lopez of Mars Volta), Midnight Masses (including members of …And you will know us by the trail of dead) and Christian Bland and the Revelators (of The Black Angels).Get It Together is full of audience tested material and as the band says the title signifies "our focus is on using rhythm and repetition as a spiritual mantra for unity."
Get It Together is full of audience tested material and as the band says the title signifies "our focus is on using rhythm and repetition to push the listener to higher plains of consciousness."
for The GLOVES website, click HERE