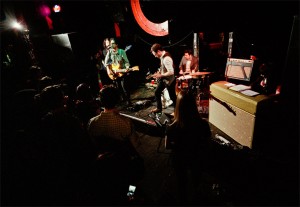 "The debut EP from Secretary presents a paradox by being progressive but yet, it teeters on the edge of the early psychedelic sound. The end result is a beautiful meld of celestial harmonies, elegant melodies and cosmic rhythm."
-Pitch Shifter
Bio – Secretary began 5,600 feet above sea level in a small mountain town in Southern California, where members Craig Ellison Wolf (vocals, guitar, Rhodes) and Em Maslich (bass, vocals) holed up for six years writing and recording. Utilizing the mountain's stillness and isolation, the duo channeled their time and energies into building and modifying instruments, experimenting with song structure and arrangements, and ultimately constructing the fundamental armature for the band's sound.
The seclusion of a mountain takes as well it gives, and while living there provided the themes of love, loss, and letting go that weave throughout their work, it was inevitable that the band would eventually have to come down. Following a series of trips to the Pacific Northwest in spring of 2012, the band relocated to Seattle, Washington. Shortly thereafter, the two met guitarist Max McSimov amongst the bins of local record store, Easy Street, where they discovered a mutual admiration for Little Richard and direct drive turntables. McSimov's echo-laden guitar lines pushed the sound into new territory, creating an additional stratum of sound and space. The lineup was solidified when multi-instrumentalist Luke Yanz was brought on board at the end of 2013.
Secretary's self -titled debut E.P. was released in the beginning of 2014 to enthusiastic response, with their song "Words" being chosen as one of Seattle's KEXP's Song of the Day. Secretary is now working on their debut full length and planning on touring extensively in an effort to bring their sound to a wider audience.