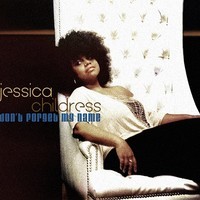 -All Content Courtesy of The MuseBox-
Jessica Childress is an explosive talent poised to take the music industry by storm. She is reminiscent of the golden age of classic soul, with a voice that will move and inspire you. This LA soulstress combines traditional R&B with a rock n' roll style, a deadly combination that landed her a spot on NBC's Emmy Award –winning show The Voice. Since then, she has commanded stages across Southern California, drawing sold-out crowds in some of its most well-known venues and is set to release her debut EP, 'Don't Forget My Name' on February 4th 2014. Childress wrote and/ or co wrote every song on this stunning EP.
Jessica wasn't always rocking out to R&B. In fact, for most of her upbringing she was exposed only to the sacred music of her church choir. It was only when Jessica left her small town of Lancaster, CA for Pepperdine University in Malibu, that she encountered a whole new world of music. At university, Jessica discovered classic soul, rhythm and blues, and rock and roll. Music became her life and Jessica divided her college years between studying music and public relations, singing and teaching piano.
Post Pepperdine, Jessica acknowledged post-grad realities and took on a career in PR to support herself, sidelining her musical ambitions. Unwilling to completely abandon her music, Jessica joined a vaudeville band, through which she met her husband who later encouraged her to seriously pursue her raw, natural talent. Shortly after, Jessica took the plunge and quit her job. In Jessica's own words:
"I decided I was done doing what I was 'supposed' to do and ready to follow my passion. That whole idea of doing what you are made to do instead of the obligatory pushing of papers is what inspired me to write the song 'I Quit'"
Less than two weeks later, Jessica received a phone call from The Voice inviting her to an audition, scheduled two days after she returned from her honeymoon. Despite crippling nerves and a scratchy voice, she delivered the audition which would land her a spot on the show.
Adam Levine's "I wanna marry her!" response to Jessica's blind audition performance of Bruno Mar's 'Marry You' couldn't have been a better start to Jessica's The Voice campaign and Usher quickly chose the rising star to join his team. Now, eight months later and a season of the hit show behind her, Jessica Childress's star is burning bright. She's assembled a world-class band for her residency at L.A.'s legendary Hotel Café. The first show sold out immediately. Now Childress is readying her upcoming E.P., 'Don't Forget My Name', as 2014 holds so much in store for the songstress from Lancaster, CA.