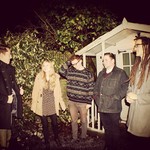 Stop Press! are a soulful ska/indie 4 piece from London and South East England.
Recently signed to Platform Songs, the band draw influence from technical indie and authentic 1st wave ska/reggae movements to create an inventive blend of contemporary summer vibes. Devoted to their inspirations, the band aim to enlighten minds and lighten moods with the music they have to offer.
With a fondness for staggered patterns and upbeat rhythms, new single Somewhere Far makes you think of a scenario involving early Red Hot Chili Peppers or Arctic Monkeys borrowing some gear from a classic ska band (think The Specials) and starting a spontaneous, but articulated jam session; moving from upbeat indie rock vibes to groovy and lush dub breakdowns; topped by bright and compelling female vocals.
Somewhere Far depicts a solid and cohesive band, dedicated to an eclectic and forward-thinking sound, refusing to get stuck in a box!
"Somewhere Far" is available from all download stores. Impact date is March 10th 2014.
Twitter: @stoppressmusic