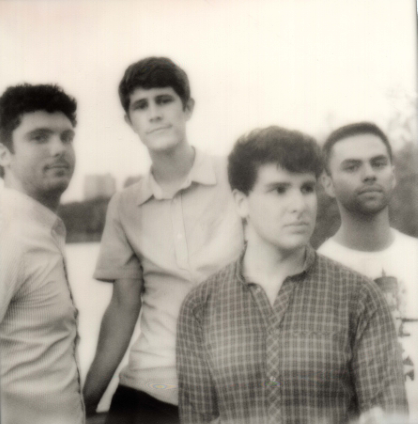 Art Decade is set to release their second album February 18th. Their self titled album is the follow up to their 2012 debut release Western Sunrise.
Thanks to Amanda from The Musebox for the album preview.
All content provided by The Musebox.
Every once in a great while, a band comes along that throws you for a loop. Case and point, Art Decade. You just can't put your finger on their sound because they're so beautifully mysterious, like an undiscovered, uncategorized amazing entity. Art Decade's guitarist/vocalist/arranger Ben Talmi "grew up on a strict diet of the finest classical music there is," and it shows. The group's first album, Western Sunrise is filled with some of the most breathtaking string arrangements you'll ever hear. Binod Singh, the lone Canadian with a penchant for Motown and soul, rounds out this duo on bass. Self-described as neo indie classical, symphonic post-pop, their unique sound actually fits these categorizations and more. It doesn't take long to pick up on a progressive electric guitar part here, a club dance beat there. Indeed, it's a disservice to ignore their alt-rock instincts, also on display.
Talmi studied at world-famous Berklee School of Music which he credits to his mature music sensibilities: "A strong musical education can do many things to a musician, oftentimes people become jaded with their acquired musical knowledge, becoming frustrated with the state of popular music and its general lack of musical depth," explains Talmi. "I truly hope to take what I have learned and apply it in a very mature way." Not surprisingly, Talmi's talent caught producer Dan Hannon's ear almost immediately. Hannon quickly put Talmi to work arranging strings for many tracks on Manchester Orchestra's third album, Simple Math, including its title track. "After hearing the home recordings that Ben self-produced," says Hannon, "I was convinced that he and the band had tremendous potential, and decided to help develop the project." A song like "Steam Punk Sicker War" succeeds at incorporating much of these calculated influences. There are stacked vocals, as well as a thumping bass worthy of Muse, light punk elements like a gruff guitar riff.
However, it's is all with a resolved purpose and tactile decisions. Talmi describes his band's music as "like architecture; every piece has a reason." In a world were compromise is all too common, it takes a strong-willed individual like Talmi to turn his lofty dreams into reality. However, the man that grew up on the classical composers – Mozart, Beethoven and Bach – wants his music to remembered the same special way as his honorable heroes. "I want to make modern music that is played in halls hundreds of years later, like classical music is today." Truly, Art Decade has no intention of merely remaining a remnant of our current decade. Rather, this group is shooting to be remembered for decades to come.
Art Decade released their debut full length LP Western Sunrise via Eldest Only Recordings on May 29th, 2012. Their second album, Art Decade arrives Feb 18, 2014.