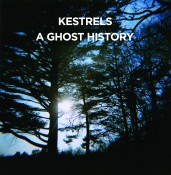 "A Ghost History", the latest release from Kestrels, is 11 tracks of shoe gazing hooks, lyrical melodies and indie pop grooves. "A Ghost History" is the sophomore release from Sonic Unyon Records (Ringo Deathstar) for the Halifax based band. Kestrels are Chad Peck, Devin Peck (bass), and Paul Brown (drums).
Comparing the latest album to the first LP and down to the EPs, there is a detection of maturity in the Kestrels' sound. But even as their sound matures, it still embraces the 90's indie pop scene which creates a paradox by sounding both new but classic at the same time.
Buy Digital / CD / and limited hand-numbered white vinyl LP (comes w/ CD) here.
See Kestrels –
2013-03-13 Charlotte, NC – Snug Harbour
2013-03-15 Austin, TX – The Nook Amphitheater
2013-03-16 Austin, TX – BD Rileys
2013-03-28 London, ON – The APK
2013-03-29 Sarnia, ON – Trinity Lounge
2013-03-30 Toronto, ON – The Garrison
2013-03-31 Montreal, QC – Casa Del Popolo