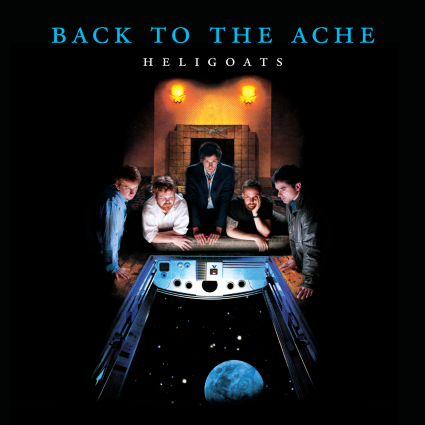 Back To The Ache is scheduled to be released on CD and digital though Greyday Records (I Was Totally Destroying It, Shipbuilding Co.) on March 19th with a vinyl release following on May 21st.
The Heligoats is comprised with Chris Otepka (vocals/guitar), Nate Lanthrum (drummer), Steve Mitchell (guitars/keys), Dave James (bass), Nick Lombardo (keys) with added percussion from Erik Rassmussen, who recorded the album and also mixed part of the album.
Back to the Ache is The Heligoats follow up to their 2010 debut, Goodness Gracious. Back to the Ache is littered with the influence of the alt-folk sound but as the album progresses, it transcends into something more complex than just a rustic folk flavor. It becomes more layered and textured and forms rich, melodic, indie-rock vibes. Highlights from the album include Drai Zich, Dark and the first single Tofutti which can be heard on NPR's All Songs Considered.
The Heligoats are touring in support of the new album.
Tour Dates:
02.22.13 Bellingham, WA @ Redlight
03.02.13 Bellingham, WA @ Boundary Bay Brewery
03.09.13 Kent, Ohio @ Rusty Nail
03.14.13 Dowagiac, MI @ Southwestern Michigan College
03.15.13 Batavia, IL @ RendezVu
03.16.13 Iowa City, IA @ Gabe's Oasis
03.17.13 Minneapolis, MN @ Amsterdam
03.18.13 Des Moines, IA @ Vaudeville Mews
03.20.13 Lincoln, NE @ Duffy's
03.21.13 Denver, CO @ Walnut Room
03.23.13 Boise, ID @ TREEFORT FEST
03.24.13 Pendleton, OR @ Great Pacific
03.25.13 Seattle, WA @ Chop Suey
03.28.13 Eugene, OR @ Cozmic Pizza
03.30.13 San Luis Obispo, CA @ Sanitarium
04.01.13 Ventura, CA @ Zoey's
04.13.13 Birmingham, AL @ D.I.S.C.O.
For the most updated list, check The Heilgoats show site.
Pre-Order Back to the Ache here.